Our fundraisers
Each month The Jordan Legacy receives a steady stream of wonderful financial donations, from companies and individuals, all of whom want to support our efforts to help reduce the frequency of suicides. Without these donations, we would be unable to continue our work.
You can support us in this way too and more information on how you can help can be found on this page of our website.
This particular page on our website is dedicated to those who have chosen to support us by undertaking some incredible physical challenges and in doing raised hundreds and thousands of pounds to help our cause.
Taylors of Harrogate
Known to many as the home of Bettys famous tearooms, Yorkshire Tea and Taylors own famous coffee brand, we were thrilled when their employees chose The Jordan Legacy as their charity of the year for 2022!
During 2022, employees undertook a wide range of fundraising activities to support our work in suicide prevention, including a 'Gig-Night' in a bar in Harrogate town centre with several bands performing, a pet fancy dress competition (which The Jordan Legacy judged!), a cycleathon, a 10k run and a five-a-side football competition and much more.
Thank you to everyone at Taylors for your amazing support this year.
Our marathon and ultra-marathon superstars
We continue to blessed at The Jordan Legacy whenever we receive a message. sometimes from people we know, on other occasions from people who contact us out of the blue, saying they'd like to raise funds to support our work. In Autumn 2022, two more incredible people, unknown to each other, did just that.
Rachel Delaney works in general practice as a nurse and mental health support and mental health signposting is an important part of her role. On October 2nd 2022, Rachel donned her running shoes and ran the 26.2 miles of the London Marathon to raise funds to support The Jordan Legacy.
Steve Carr is already well-known to us at The Jordan Legacy and is one of our primary partners for the delivery of accredited suicide prevention training. Steve is no stranger to taking on an adventure, including flying planes, riding fast motorcycles and more. However, in October 2022, Steve decided to run his first event ultra marathon – more than 31 miles!
Steve's life has not been without its challenges. He experienced an extremely traumatic childhood, including the death of his elder brother which led to addiction, homelessness and attempted suicide. Later in life he suffered a mental health breakdown in the workplace and was given a mental health diagnosis of  PTSD.
Between Rachel and Steve's incredible efforts, they raised more than £1000 to support our work. Thank you both for every aching muscle and sore foot your experienced in helping us give hope to others.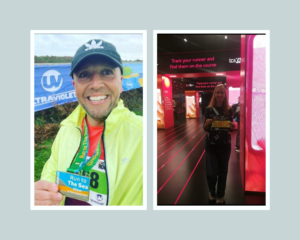 Please welcome our newest 'Hero Partner' – Craven Consultancy Services Ltd
Like so many, who have been moved and inspired by our work to help prevent suicides, in December 2021, Dee Newton messaged Steve via LinkedIn; "Hi Steve Could you please give me a call about how we could support your organisation  Thank you  Dee"
This simple message, led to Steve meeting with Dee and Craven Consultancy's MD, Liz Brewster, via Zoom. That conversation led to Craven Consultancy Services becoming our latest 'Hero Partner'
Located near Skipton,in North Yorkshire, Craven Consultancy Services consists of Craven Safety Services & Craven HR Services and provides a range of health and safety and HR training, consultancy and software solutions to businesses. Full details of all these services can be found on their website here.
As a 'Hero partner', Liz and her team have committed a regular monthly financial donation to The Jordan Legacy, as well as agreeing to undertake a range of activities during the next 12 months, some of which include:
Promoting The Jordan Legacy in Craven Consultancy's monthly newsletters
Add a full page to Craven Consultancy Services' website with information and links to how people can donate to The Jordan Legacy
Attending the Mental Health First Aid training courses organised by The Jordan Legacy and promoting these courses to Craven Consultancy's clients
Share posts about The Jordan Legacy's work via LinkedIn and other social media.
Create various events throughout the year to raise funds for The Jordan Legacy.
In October of 2022, Craven hosted an evening networking and fundraising event at Broughton Hall near Skipton. The event included some amazing and inspiring speakers and our own Steve Phillip kicked-started the evening by sharing a few words about the issues relating to suicide and mental health and about the work we do at The Jordan Legacy.
It's this kind of financial and importantly, practical support provided by organisations like Craven Consulting Services, which makes a huge difference to the work we do at The Jordan Legacy in helping to prevent suicides.
Thank you for pledging your support for 2022, Dee, Liz and team!
Penny climbs mountain in Croatia!
In 2010, Penny Tyler tragically lost her sister and best friend Lucie Ann Tyler to suicide. In Penny's words, Lucie was 'a beacon of light for all those around her…the warmest, funniest, kindest person you would ever meet.'
In April 2022, in memory of her sister and to raise funds for The Jordan Legacy and The Zee Foundation in Uganda, Penny travelled to Croatia, to climb the treacherous 350m route called Mosoraski on the Paklenica Mountain.
To say the conditions were, at times, dangerous, is probably an understatement, so much so, that Day 1's plans had to be cancelled! At one point, Penny and her climbing buddies were being blown up the mountain, until a severe gust of wind literally blew her off her feet and she didn't land until the gust subsided!!! See the one of Penny's video clips below.
Incredibly, she did and Penny managed to raise an incredible £1259.40 for The Jordan Legacy – thank you Penny, you are a a real super-hero!!
To donate to Penny's just-giving page please click this link
Cameron runs 34 kilometres to the peak of Snowdon during the middle of winter!
In the summer of 2021, at the age of 33, Ross Keenan lost his battle with poor mental health and tragically took his own life. Described by his brother as someone whose 'greatest attribute was his heart, no matter the odds or the adversity, he charged headfirst, standing up for himself and others, always picking the underdog. He was the most loyal friend, a person with unconditional love, who you could call on whatever the situation.'
To honour his brother's life and in support of The Jordan Legacy, on February 24th 2022, Ross's 34th birthday, Cameron ran 34 kilometre's, over gruelling terrain, ascending Mount Snowdon, the highest mountain in Wales, at an elevation of 1,085 metres (3,560 ft) above sea level!
During training for this incredible feat, Cameron had to fight off a bout of Covid at the beginning of 2022 but in the end, with his Mum and sister, Georgia, waiting for him at the summit, Cameron achieved his goal, raising more than £7300 for The Jordan Legacy. The Rossathon Justgiving page is still live, if you would like to donate and support Cameron's amazing achievement.  JustGiving 'The Rossathon' page here. 
9 year old Farran's incredible challenge in memory of her brother
On March 21st 2021, the lives of a family from Yorkshire were shattered when Liam Foster died by suicide at the age of 22, just weeks before his 23rd birthday.
Liam's Mum, Lisa contacted The Jordan Legacy and explained how she had been following our story, since tragically losing Liam and how she had been inspired to find hope through our work. Lisa said that it would mean a lot to their family for them to be able to contribute to the work we're doing in Liam's memory and of course Jordan's memory too.
Liam's little sister, Farran, is just 9 years old and during the summer of 2022, with the support of her family, Farran is planning to raise £5200 to support 2 causes that are close to their hearts, one being The Jordan Legacy.
It was Liam's wish that his ashes be spread on Old Man Mountain, Jasper, in Canada, a place he travelled to when he was just 18. He fell in love with Canada and never wanted to leave. To honour her big brother's wishes, Farran will be walking the 5.2km, taking the Old Man Trail via Roche Bonhomme Route, which can take even experienced climbers up to 8 hours to complete!
Farran will be turning 9 just before she sets off to complete her incredible challenge with her family and some of Liam's close friends.
For full details of Liam's story and Farran's challenge and to donate to her JustGiving Page, please click this link.
Hickman Mental Health Ball
In April 2020, Katie Hickman contacted Steve Phillip via LinkedIn, worried about her husband who was struggling with his mental health. After what had been a incredibly tough year supporting her husband, Katie decided she wanted to give something back to the Charities and NHS teams who had been there for her, this included The Jordan Legacy.
On Saturday November 21st, 2021, together with her family, Katie held the very first Annual Hickman Mental Health Ball.
When she first considered putting on this event, Katie thought it would be a few members of her family and friends who would get together and raise a few hundred pounds for The Jordan Legacy and the Eastbourne Department of Psychiatry. By the end of the evening, they had raised raised a staggering £7462.50!
Gina Vickers – The Manchester Marathon
On the 10th of October, Gina Vickers and several of her friends decided to run the 26.2 miles of the Manchester marathon. This group of University chums were doing this in memory of one of their best friends, Harrison De George, pictured in the centre of the group photo below. On the 7th of December 2020 Harrison, a trainee teacher, took his own life aged just 23.
October 10th was also a significant date to Harrison's friends as it was World Mental Health day. Harrison was passionate about mental health and encouraged others to talk and to even reach out to him if they ever needed.
Gina and friends raised a staggering £4797 for The Jordan Legacy.
2-work – Three Peaks Challenge
Leeds based company, 2-work, like to challenge traditional ways of providing flexible office space for their clients, they're also not afraid of any other kind of challenge either. In September 2021, directors Gal Leslie and Janthea Griffin, together with Harriet Tarbatt and Natalie Pucher, decided to take on the National Three Peaks. Driving, walking, climbing and scrambling more than 25 miles, whilst ascending 1585 metres in under 12 hours, they managed to raise an incredible £1481.03!!
2-work were also one of the first organisations to become a 'Super-hero' partner of The Jordan Legacy, showing a real commitment to supporting our cause long-term.
Craig Swan – Musician
Jordan had so many friends and one of these, who only learnt about Jordan's death some months later, was Craig. When they were both in their early 20's, Craig and Jordan had worked together at The British Library.
"I have memories of Jordan that still make me burst out laughing as we found ourselves in a ridiculous situation of scanning endless books. The recession brought us together and our humour at the hopelessness of it all got us through the mind numbing shifts".
Craig has had his own struggles with mental health and told us how Jordan was always someone who was there for him. He had no clue that Jordan was also dealing with his own mental health struggles.
In October 2021, Craig released his EP, 'Georges Diner', which highlights mental health struggles. Craig is donating all proceeds from the sale of his EP to The Jordan Legacy. You can listen to and download Georges Diner by clicking this link. You can also purchase merchandise, including the album cover and t-shirt here too.
Natalie and Jasmine – another Three Peaks Challenge
On Saturday 26th June, Jasmine Roebuck and Natalie Smith took on National Three Peaks 24 Hour Challenge, driving between and then scaling Ben Nevis in Scotland, Scafell Pike in the Lake District National Park and Mount Snowdon in Wales. The challenge involved hiking approximately 23 miles, over 3000m (10,000ft) of ascent, twice that of the Yorkshire 3 peaks and approximately 468 miles of driving! In total, they raised over £1000 for The Jordan Legacy!
Touched by mental health issues close to them, Jasmine and Natalie wanted to do something that would challenge them both, whilst at the same time using nature, outdoors and walking within the challenge. Both felt that the pandemic lockdown had had an impact on their mental health and getting out into nature has been a key part of 'staying sane' over the past year.
Elaine Whittaker
In 2020, despite struggling with her own terminal illness, Elaine made a commitment to support The Jordan Legacy by walking a total of 50km. She surpassed her target however, walking an incredible 82.4 kms and in doing so, raised more than £1700!
Tragically, in November 2021, we received news that Elaine had lost her battle with cancer. Steve, The Jordan Legacy's founder, was first introduced to Elaine by his son-in-law, Matt Jackson, Danielle's (Jordan's sister) partner. Matt and Elaine worked together at AXA Insurance.
Steve never did get to meet Elaine but they messaged regularly and they did speak on the phone once. Steve was always struck by Elaine's can do and never give up attitude, as well as her wonderful sense of humour. She is very much missed by all those who worked with her and knew and loved her.
Atlantic UK Architectural Hardware
In the summer of 2021, the team at Atlantic UK undertook a virtual challenge to row & walk around the Mediterranean, visiting various cities along the way, of which their Mediterranean levers are named after! View their range here: https://atlantichandles.com/range/mediterranean/
Each team chose to row and walk a third of the total distance whilst raising funds for The Jordan Legacy, in the end raising a wonderful £520!