Why 'Zero Suicide'?
'Zero Suicide' can clearly be a (desirable) target to aim for but it is also a philosophy and framework that has been developed over the past 20 years to help those trying to make significant and sustainable shifts in reducing the number of suicides.
The 'Zero Suicide in Healthcare' movement was established in Detroit in 2000 when a team at the Henry Ford Health System decided to raise their ambition. In just four years, the number of suicides had been reduced by 75%, and there have been some years since where there have been no suicide deaths at all within the Health System.
A global 'Zero Suicide' community has developed among those who share the ambition and approach; still largely focused on healthcare systems but more recently broadening out applications of the philosophy and framework in the community.
We use terms like "moving towards a zero suicide society" to describe our vision and ambition, although we know this gets pushback from people who interpret it as, for example, an unrealistic target rather than implementing a philosophy and framework which can significantly reduce the number of suicides.
A 'zero suicide society' in our eyes is a society that is willing and able to do all it can to prevent all preventable suicides. Shared learning and collaboration are key to a common understanding and collective action. And we shouldn't let language divide us!
At The Jordan Legacy, we recognise that:
We must be cautious in suggesting that all suicides are preventable or that a 'zero suicide society' is easy to achieve
Despite the best efforts of loved ones and all those involved in mental health care and suicide prevention, some people will end their own lives
Initiatives to 'move toward zero' must be collaborative and supportive, not just empty targets.
We must avoid low ambition though – most national and regional suicide prevention strategies set at no greater than '10% reduction in 5 years', have not been met.
Many at a national level, feel that significantly reducing suicides seems too hard – there is a lack of belief and 'moving towards zero' sounds like a fantasy.
Narratives like 'it's good that the number hasn't risen' is not something we can accept any longer.
Research suggests that most suicides are preventable – surely we should be preventing most suicides?
The solution
If significantly reducing the annual number of suicides in the UK, below 6000, sounds impossible then it's time to tackle suicide prevention at the micro level rather than the macro level.
If we ask the question, 'Could we reduce 20 deaths by suicide to Zero?', most would agree this might be possible.
If we asked an individual hospital, school, university, workplace or community setting 'What should your target be for suicide deaths in the next 12 months?', would they respond by saying 10%, 25% 50% or 'it has to be zero'?
At The Jordan Legacy, we believe we need to work at the micro level, in collaboration with others, to have a collective macro impact on reducing suicides and 'moving toward zero'.
Research and engagement with the global 'Zero Suicide Community', carried out by Paul Vittles, now a member of The Jordan Legacy team, in 2019-2020, led to the development of a transformation model summarised in the diagram on this page. It is this model, which shapes The Jordan Legacy's thinking and approach to suicide prevention.
The Jordan Legacy's 5-layer suicide prevention strategy
Community Solutions
Design out suicide
Workplace wellbeing
Digital + Human lifesaving systems
Jordan's Place – a centre for hope
Success in moving towards zero will only be achieved in collaboration with those who share the same ambition and the same belief – 'The Zero Suicide Community' – working together.
Top-down leadership requires full engagement by:
Government
Business leaders
Community leaders
Healthcare leaders
Education leaders
Ground-up leadership requires engagement by
All of us!
Every individual, irrespective of their role in business or society can make a difference using their spheres of influence.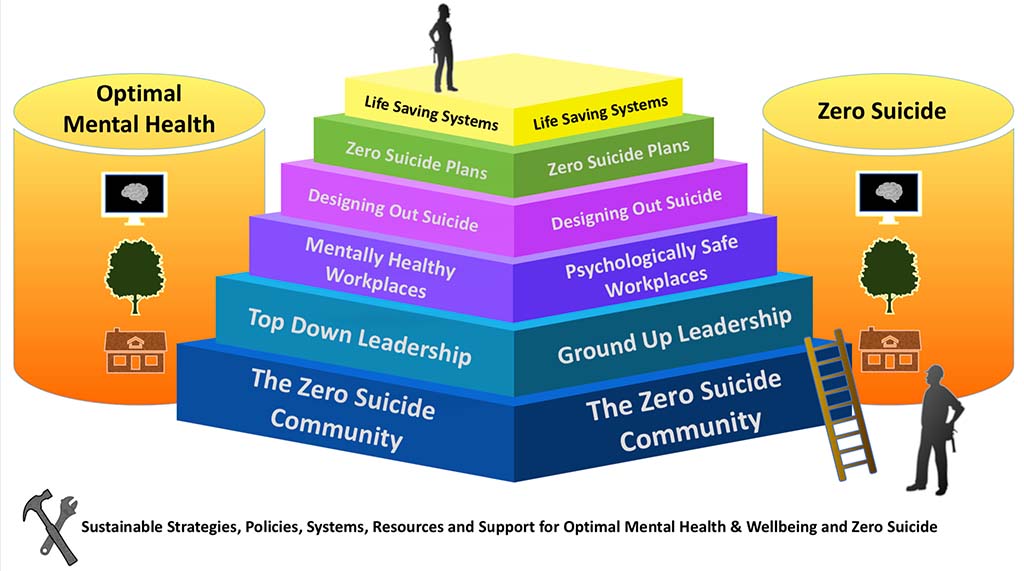 Community Solutions
For this part of our strategy, our actions are aimed at benefitting communities, including; schools, colleges and universities, local businesses, non-professional and professional sports clubs and teams, local chambers of commerce and business groups and associations, local charities and support groups, local NHS and mental health teams, suicide prevention leads, charities and other third sector organisations and groups by sharing relevant information, advice, awareness-raising, education, and support to help create communities where suicide prevention is more openly discussed and deaths by suicide become increasingly rare events.
We will collaborate with local communities and those providing mental health and suicide prevention support, who support our vision to move toward a Zero Suicide society. We will identify and share what is working well within these communities, so that others may learn from these initiatives and implement similar approaches.
Design Out Suicide
Originally a broader concept developed to take a design thinking and process engineering approach to all the steps that lead up to someone taking their own life, including restricting access to means, this concept has been embraced by those involved in the design and construction of outdoor structures and places, including places which are often chosen by people intent on ending their own lives.
For this part of our Zero Suicide strategy, our actions are aimed at engaging with those who are actively involved in supporting mental health and preventing suicides in the design of the built environment; and also those employed in the construction sector where suicide rates are high.
Workplace Wellbeing
Most of us will spend a third of our lives at work, so it's important that workplaces are psychologically safe environments, where mental health and employee wellbeing are seen as core business issues.
Most people who take their lives each year are employed. In a supportive workplace environment, the involvement of leaders, managers and all employees is an important component in suicide prevention.
Digital & Human Lifesaving Systems
For this part of our Zero Suicide strategy, our aim is to engage with those working in digital communications technology fields, including those developing apps, real time surveillance solutions, social media platforms, websites and other emerging technologies, to raise awareness about suicide and encourage the research and development of practical solutions which will help prevent deaths by suicide.
The Jordan Legacy will continuously look for gaps and breakthrough ideas via the positive application of digital communications linked to human support systems. This includes complementing and challenging existing suicide prevention and wellbeing research and activities.
Jordan's Place – a centre for hope
Our actions are specifically aimed at benefitting the general public and those more directly impacted by mental health challenges and suicide, by providing relevant information, advice, awareness-raising, education, and support to help move the UK to a society where suicide prevention is more openly discussed and deaths by suicide are rare events.
We aim to continually promote the public benefits of advancing mental health and suicide prevention approaches; developing, collating and sharing 'what works' with the general public and those groups, organisations, institutions and individuals who are able to help save lives.