I've lost someone to suicide
Have you lost someone to suicide?
For urgent assistance visit our Resources page
When you're bereaved by suicide, it is often described as 'grief with the volume turned up' You may experience a range of emotions from shock and despair, anxiety, depression and hurt. You may feel anger toward the person who took their life for leaving you or toward someone else or yourself for not preventing their suicide. You may also feel suicidal and that life is not worth living without that person.
Help is at hand is a guide we'd highly recommend you read if you have lost someone to suicide, however you are related to the person who took their own life. This guide is supported by Public Health England and the National Suicide Prevention Alliance and has been put together with the help of people who have been bereaved by suicide and may have experienced some of what you're going through right now.
To download a copy of Help is at hand click here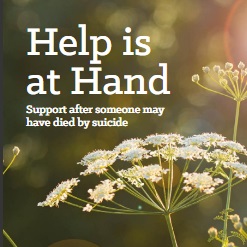 Other helpful bereavement support resources
The ripple effect of someone dying by suicide can be immense. The following organisations are there to support anyone who is bereaved as a result of suicide, whatever your relationship to the person who took their own life.
How To Cope When Suicide Comes Knocking On Your Door
For a more personal perspective on how to cope when you've been bereaved by suicide, you might want to read an article published by The Jordan Legacy's Founder, Steve Phillip – please click here to view.