I've lost someone to suicide
Have you lost someone to suicide?
For urgent assistance visit our Resources page
When you're bereaved by suicide, it is often described as 'grief with the volume turned up' You may experience a range of emotions from shock and despair, anxiety, depression and hurt. You may feel anger toward the person who took their life for leaving you or toward someone else or yourself for not preventing their suicide. You may also feel suicidal and that life is not worth living without that person.
Help is at hand is a guide we'd highly recommend you read if you have lost someone to suicide, however you are related to the person who took their own life. This guide is supported by Public Health England and the National Suicide Prevention Alliance and has been put together with the help of people who have been bereaved by suicide and may have experienced some of what you're going through right now.
To download a copy of Help is at hand click here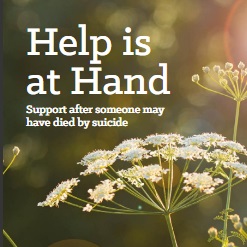 Other helpful bereavement support resources
The ripple effect of someone dying by suicide can be immense. The following organisations are there to support anyone who is bereaved as a result of suicide, whatever your relationship to the person who took their own life.
Suicide&Co provides a range of services specifically to support those bereaved by suicide. They even have their own Helpline which you can call on 0800 054 8400 from 9am-5pm Monday to Friday. Visit their website here.
Sidekick by Suicide&Co is a FREE app designed to support you through your suicide loss journey, providing both general mental health exercises, and personalised suicide bereavement specific resources. Everyone's grief journey is unique, which is why this App includes a variety of resources to help you find the right support for you.
Mind – the nationally recognised mental health charity also provides information on bereavement, where to go for support, and suggestions for helping yourself and others through grief Visit website.
The Compassionate Friends (not suicide specific) – supporting bereaved parent and their families  Visit global website / Visit UK website
SOBS (Survivors Of Bereavement by Suicide) is a national charity providing dedicated support to adults who have been bereaved by suicide. They currently have around 150 volunteers across the UK who help to run their services and who come from all walks of life but nearly all have been touched by suicide themselves, this experience enables them to connect with others. Visit website
Cruse Bereavement Care offers telephone, email and website support. They have a Freephone national helpline 0808 808 1677 and local services, and a website (hopeagain.org.uk) specifically for children and young people. Cruse has a network of 5,000 trained volunteers and are confidential and free. Cruse also provides training and consultancy for external organisations and for those who may encounter bereaved people in the course of their work. Visit website
Calm- Campaign Against Living Miserably – (England) provoke conversation, run life-saving services, and bring people together so they reject living miserably, get help when they need it and don't die by suicide. They also publish helpful articles on the topic of bereavement by suicide – click here to access these articles.
Grief Encounter's mission is to give every child and young person access to the best possible support following the death of someone close. They work closely with individuals, families, schools and professionals to offer a way through the anxiety, fear and isolation so often caused by grief. They have a helpline 0808 802 0111. Visit website
Bags for Strife – is a charity set up by people who have lost someone to suicide and who were struck by the lack of accessible support. They reached out to others who have been through similar circumstances and realised that their experience was not unique. BAGS will aim to provide practical and emotional support both for the short and long term. The contents of the bags are tailored to what you need in both the immediate term and longer term, ranging from the practical to the emotional. Visit website
Just 'B' (North Yorkshire) offers expert emotional wellbeing and bereavement support to children, young people and adults across the communities of North Yorkshire, as well as specialist support regionally and nationally. You can visit the site here.
The New Normal Charity – established in 2018 by 2 friends, Ben and Jack to provide a safe space for young people and anyone to receive free peer led support so they can talk openly about any form of bereavement they have experienced. Groups are free to attend and can be joined online in the UK and overseas. The charity also holds physical meetings in London and soon in Manchester also. Visit the website here.
Winston's Wish provides specialist suicide bereavement support for children, young people and families following a death through suicide. Visit the website here.
Explaining a loss by suicide to a child or young person
Many parents struggle with how to tell their children that a close family member or friend has died by suicide.
Understandably, the stigma surrounding suicide can make such a conversation difficult, sometimes resulting in the young person discovering the 'truth' months or even years afterwards.
By delaying this conversation, this can lead to repeating the bereavement process and in some cases resentment might be experienced because the child or young person feels the truth should have been told them right away.
We hope you find the following resources are helpful:
Chilypep is a young people's empowerment project founded in 2021. As part of this project they have created the 'Walk with me' toolkit . Page 9 specifically deals with 'How to talk to your child about suicide'.
Winston's Wish is a UK-based childhood bereavement charity. They provide a wide range of resources, including how to speak to children about suicide. They highlight the importance of being honest and explaining what has happened. The following page on their website covers: How to explain suicide to children and young people.
The Winston's Wish website also includes a shop where you can purchase excellent resources, such as a book we've been recommended called Beyond The Rough Rock