The role of education and training in preventing suicides?
How does MHFA and other training reduce suicides in workplaces and schools? Should training be a mandatory requirement? This event is your opportunity to listen to those with experience of these issues and to be able to get across your views.
The next in The Jordan Legacy's series of online discussion events is happening on Wednesday, 19th April from 11:00am-1:00pm (GMT).
When we ask what can be done to reduce the number of suicides, as The Jordan Legacy does continuously, two of the most common responses are 'training' and 'cover it in schools'.
We've recently had high profile calls for suicide awareness & prevention to be embedded within the school curriculum – the 3 Dads Walking petition on this has had more than 150,000 signatures in support – and MP Dean Russell put forward a motion for Mental Health First Aid to be mandatory for workplaces.
But what exactly should be 'taught' in schools? What 'training' should take place in workplaces? To what extent can education and training reduce the number of suicides? What should be mandated and what encouraged? How far can we go in specifying what should be done and how it should be done? What is the best way forward?
In this latest panel discussion event from The Jordan Legacy, we explore these issues and these questions with contributions from our invited panel and with those attending having the opportunity to ask questions and comment.
We will also update you on The Jordan Legacy's  2023 suicide prevention strategy and our action-research project, which has already engaged senior leaders from organisations like Papyrus and Samaritans, The OLLIE Foundation, Sean's Place and high profile campaigners, the 3 Dad's Walking. With many more such conversations lined up, we are asking each the question; 'How far can we go in reducing the 6000+ suicides which happen in the UK every year?'
Event is happening on Wednesday 19th April 2023 from 11:00am-1:00pm (GMT)
11am – 12pm the focus for Session 1 will be on workplaces. From 12pm to 1pm, for Session 2, we will discuss these issues as they relate to the education sector and young people.
Register to book your free place click this link
Our panel line-up so far
Session 1 (11am-12pm) panel line up now confirmed:
Dean Russell MP for Watford has put forward a motion for Mental Health First Aid to be mandatory for workplaces, which has its second reading in the House this month.
Jodie Hill founder of Thrive Law Jodie has been another powerful voice on this subject and has been seen on numerous media channels including Sky News.
Emily Pearson is Co-founder and Managing Director of Our Mind's Work and is a Workplace Mental Health Programme expert, developing the first in the UK, levy funded, Workplace Mental Health Leadership Development Apprenticeship Programme.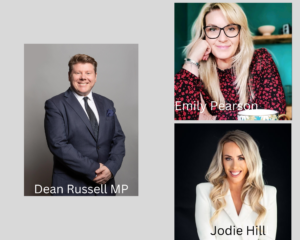 Register to book your free place click this link
Session 2 (12pm-1pm) panel line up now confirmed:
Conor Warren is the 17 year old CEO of Spark UK, a mental health organisation run by young people for young people and has been featured on the One Show, Sky News, the Guardian newspaper and many other media outlets. Their aim is to 'Spark conversations around mental health' by creating a range of resources, campaigns and lessons for schools and young people across the country.
Helen Garlick is author of the hugely successful book 'No Time To Lie' which explores the toxicity of shame, silence, secrets and the importance of talking about suicide. Helen lost her brother to suicide on St. David's Day 1981 and is an Ambassador for the Zero Suicide Alliance.
Mike Palmer is one of the  3 Dads Walking, known by millions around the world for their epic walks around the UK to raise funds for the young people's suicide prevention charity, Papyrus, and who have led a government petition to make suicide prevention a compulsory part of the schools curriculum. To date, the petition has amassed almost 160,000 signatures of support.
Dr. Lisa Edwards is a university academic with an interest in suicide prevention in Higher Education.  She is a keen supporter of The Learn Network who are a group of bereaved families working to prevent suicides in HE and is also a Trustee of Grassroots Suicide Prevention.  Lisa lost her son David to suicide in 2016 and is passionate about suicide prevention in the education sectors.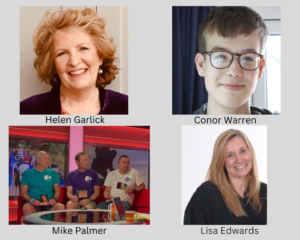 Register to book your free place click this link