Our One Million Steps Challenge – June 2023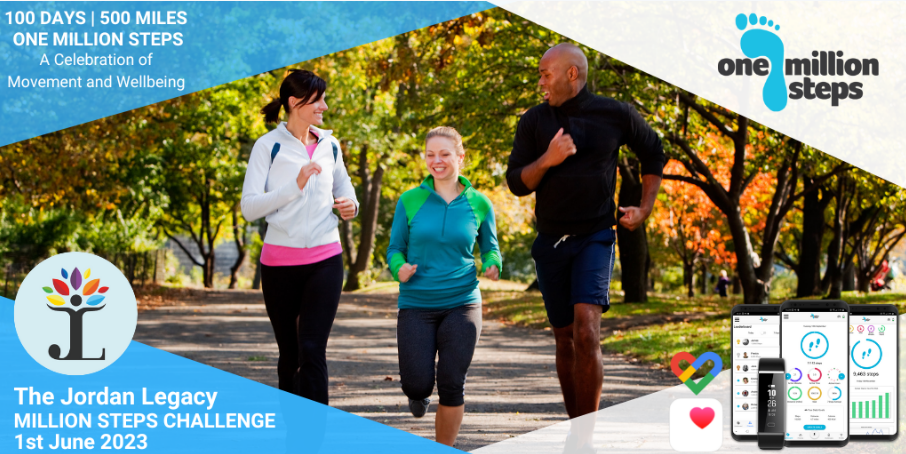 In January 2023, NHS data revealed that the number of young people under 18 being referred for mental health treatment has now topped 1 million. So, we decided to invite people to take part in a challenge to recognise this worrying statistic and support the work we're doing at The Jordan Legacy.
We partnered with One Million Steps and on June 1st, 40 people signed up to challenge themselves and compete with friends, whilst raising money to support Our Mission to create a society that is willing and able to do all it can to prevent all preventable suicides.
One Million Steps 100 Days, 500 Miles
Walking is great for our physical and mental health. But often we tell ourselves we can't find the time, we're tired, we'll start tomorrow. Our steppers took up the challenge to walk, jog, run or even dance their way to 10,000 steps a day for 100 days. Those one million steps add up to an incredible 500 miles and are helping us move even closer to a 'Zero Suicide Society' and reducing the 6000+ people who die by suicide each year in the UK.
By the end of the 100 days challenge we had achieved 385% our initial goal to raise £3000. We decided to up our sponsorship goal to an ambitious £10000 and we were blown away with our steppers who raised an amazing £11546, completing a total of 32,218,529 steps!
The reason why people made such an effort to support The Jordan Legacy is because of Jordan – our 'Why'. If you're not familiar with his story, please take a few moments, click here and read about why Jordan left such a gap in so many lives.