9 year old Farran's incredible challenge in memory of her brother
On March 21st 2021, the lives of a family from Yorkshire were shattered when Liam Foster died by suicide at the age of 22, just weeks before his 23rd birthday.
During the summer of 2022, Liam's little sister, Farran, at just 9 years old, together with the support of her family, set out to raise £5200 to support two causes close to their hearts, one being The Jordan Legacy the other Quinn's Retreat.
The family travelled to Canada to climb the 5.2km, 2500 metre high, Old Man Trail, at Jasper, the same climb her brother had undertaken a few years earlier. This is a trek that can take even experienced climbers up to 8 hours to complete! Lisa told us: "It was tougher than any of us expected and it was scary in parts. The heatwave didn't help and the loose shale and stones in parts meant we had to continually move out of the way of falling debris! The Views from the top were breath-taking though."
It was Liam's wish that his ashes be spread on that mountain in Jasper, a place he travelled to when he was just 18. He fell in love with Canada and never wanted to leave.
Lisa's fundraising campaign was wonderfully supported by Julie Downs who raised almost £700 by undertaking The Great North Swim at Windermere (not for the first time!), swimming a distance of 2 miles in the chilly lake waters.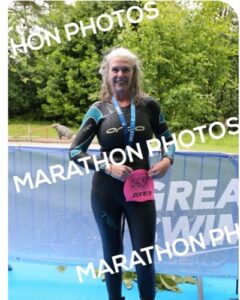 Another incredible lived experience story and how, out of such a tragic loss, people come together to achieve remarkable feats!